I am here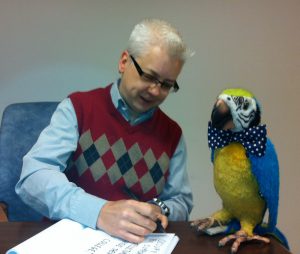 to answer your questions or help you find the answers! Please contact me:
Bev Harp, MSW
baharp2@uky.edu
FAQ
Q: Where is your phone number?
A: Phone calls are not my best way of communicating. However, I will do my best to talk to you on the phone if it is what you need. Please email me to request my number. Another great option is to use Skype. This allows one person to talk while the other types. My Skype name is squawkers.mccaw
Q: Wait a minute…how can you do presentations if you can't talk on the phone?
A: Good question! For presentations, I will be covering material I know very well. Much of it will be memorized or "scripted." This is a common way for autistic people to communicate. I am looking forward to telling you more about it. I have presented at quite a few national conferences and many state or regional events. Trust me, I've got this.
Q: What's up with the parrot? :
A: To learn more about Squawkers and how he works with me, please enjoy this video.